Which version is right for you?
Money Habitudes is a simple but effective activity that works as a financial conversation starter, an ice breaker game, and a money personality test. It can be a stand-alone activity or part of other financial education, planning, counseling or coaching programs.

Which version of Money Habitudes cards to use?
How all versions are the same:
Formatting, directions and use.
Color-coding:

Green card (directions to play Money Habitudes Solitaire)
Blue cards (three sorting cards for Money Habitudes Solitaire)
Yellow cards (two general interpretation cards and an interpretation card for each of the six Habitudes with suggestions for next steps on the back)
White statement cards (54 cards divided by nine statements for each of the six Habitudes on the front, coded by pictures for each of the six Habitudes on the back.)
Money Habitudes Online preserves the color-coding on the backs of the statement cards. However the content from the green, blue and yellow cards is integrated into the instructions and report for the online assessment process.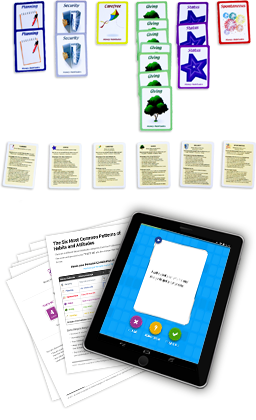 Habitudes names for different versions:
The latest (2012) Adult version (in English) uses updated graphics and colors and standardizes the Habitudes names with the Teen and Money Habitudes II versions.
| Adult (2012 version) | Adult (2003, 2006, 2009) | Money Habitudes II | Teens | Hábitos Monetarios (Spanish) |
| --- | --- | --- | --- | --- |
| Security – gray vault | Security – black lock | Security – lock | Security – black lock | Security – black lock |
| Spontaneous – red fireworks | Spontaneous – purple fireworks | Spontaneous – jumping person | Spontaneous – green person | Spontaneous – purple fireworks |
| Giving – green tree | Selfless – blue bird | Giving – hand | Giving – blue hand | Selfless – blue bird |
| Carefree – yellow kite | Free Spirit – green swirl | Carefree – kite | Carefree – yellow kite | Free Spirit – green swirl |
| Status – purple star | Status – orange cat | Status – stars | Status – blue star | Status – orange cat |
| Planning – blue notepad | Targeted Goals – red target | Planning – notepad | Planning – blue notepad | Targeted Goals – red target |
Statements
The statements are written to be age-appropriate for the different t versions. For example, the Teen cards mention parents more frequently as opposed to friends and family. The latest Adult and Teen versions were rigorously revised so that none of the statements exceed a 5th grade reading level. Two typical side-by-side comparisons of the same card in the different versions are as follows:
| Money Habitudes for Adults | Money Habitudes for Teens |
| --- | --- |
| I will hide the fact that I am having money problems. Even if I can't afford it, I will spend money to keep up a good image. | I never let anyone know if I'm out of money. I just pretend I forgot to bring it. |
| When I go shopping, I have to buy something. | When I go shopping or hang out at the mall or downtown, I always spend some money. |