Financial literacy classes: FINRA Smart investing@your library
A number of libraries offer financial literacy classes using Money Habitudes through FINRA grants and the Smart investing@your library® initiative. One such institution is the Jackson District Library, Jackson, MI.
FINRA grants for financial literacy classes at libraries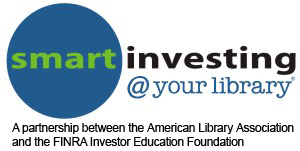 FINRA is the Financial Industry Regulatory Authority.
FINRA's Investor Education Foundation and the American Library Association (ALA) are providing $1.2 million in grants to 16 recipients this year. The FINRA grants are part of the Smart investing@your library® initiative.
Smart investing@your library® is administered jointly by the Reference and User Services Association—a division of ALA—and the FINRA Investor Education Foundation. The program funds library efforts to provide patrons with effective, unbiased educational resources about personal finance and investing. Now in its fifth year, the program has awarded a total of nearly $6 million to public libraries and library networks nationwide. Many grants fund financial literacy classes.
The grants target a diverse group of library patrons:
Youth
Seniors
English-language learners
college students
rural residents
low-income families
Money Habitudes in FINRA's Smart investing@your library financial literacy classes and counseling
Participating libraries will use a variety of technologies and outreach strategies to connect library users to the best financial education and information available. These strategies include:
online learning
seminars, financial literacy classes
one-on-one clinics
storytelling
performances
staff training
While an online Money Habitudes application is forthcoming, today the versatile financial money personality assessment and money management game is used in financial literacy classes and one-on-one clinics. In the sense that it is a money conversation starter, it gets people to share their money stories with others in a fun, engaging, non-threatening way.
Money Habitudes cards are often used in staff training to help financial educators, financial planners, VITA income tax volunteers, money coaches and the like. The training cards help financial professionals better understand their own money mindset. This allows them to see how and why they give they advice they do and relate to clients in the way they do; often they realize they've come across as judgmental and biased when they haven't meant to. Using the cards also helps financial advisors more clearly understand their clients' spending habits, financial attitudes and behaviors.
Jackson District Library: FINRA Smart investing@your library grant award
Jackson District Library is partnering with United Way and other community agencies to deliver financial education resources in the county and improve communications about finances among low- and moderate-income households. Participants will develop a financial plan, increase their knowledge about money management and investing, and gain better access to learning resources with support from a personal finance help desk service and financial literacy classes based on the FDIC Money Smart curriculum. Grant amount: $99,187
The actual Money Habitudes financial literacy class posting at the library looks like this:
Money & Marriage Luncheon: Money Habitudes
Money Habitudes
Hungry for advice to help keep your financial health in balance?  Pack your lunch, or order it from us.  Whether you attend by yourself or as a couple, you will learn ideas to help your relationship  — and we will provide dessert.
Location: United Way conference room A/B
For more information and to register, visit our website or call 517-796-5116.  First 20 people registered will be entered into a drawing for a free lunch!
Read this blog post for some commonalities of financial literacy classes that use Money Habitudes cards. And, for other ideas about how to use the financial cards in financial education and financial literacy classes, check out the Money Habitudes case studies.
Other free community financial classes offered by the Jackson District Library include:
Money Smart Workshop: Pay Yourself First
Pay Yourself First
Why you should save, save, save!
Join us for workshops that will help to instill a new attitude of honesty and financial communication.  Refreshments and babysitting available. Registration is required and enters you into a grand prize drawing.  Please contact us at 517-788-4087, ext. 1339.
Identity Theft Workshop with John Miller from Harvard Risk Management Corp.

Money Smart Workshop: Bank On It
Bank On It
An introduction to bank services.
Join us for workshops that will help to instill a new attitude of honesty and financial communication.  Refreshments and babysitting available. Registration is required and enters you into a grand prize drawing.