Relationship Holiday Spending Tips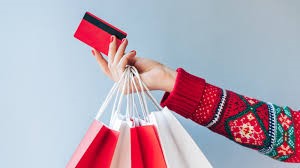 According to a Nerd Wallet 2022 survey1 nearly a third of people reported that they still owe money from last year's holidays and 72% plan to charge this year's holiday purchases on credit cards. Others plan to take stores up on their buy now, pay later plans, use a cash advance or get a payday loan.  Since most couples don't take the time to talk about how much they will spend on holiday gifts, holiday entertaining or end-of-year giving, those January bills can be a powerfully negative game-changer for couples.
Let's not talk about the debt, but the impact of those bills. Here are five common responses:   
Surprise:

The amount that one or both people spent can be an overwhelming surprise.  Often people aren't tracking their expenses and don't realize how quickly they have added up.  Both people can feel blindsided by the amount of debt they now have and this often leads to finger-pointing and blaming each other or feeling personally guilty and ashamed.

Betrayal:

  Sometimes couples have communicated and agreed to parameters for spending, so if one person doesn't follow-through and spends more, the partner feels betrayed.

Resentment:

  If either person is spending extra to compensate for feeling guilty, avoiding appearing cheap, or trying to please someone, the partner may not understand the reasoning or accept those strong emotional motivations and resent the extra expense.

Blame:

  When couples incur extra expenses to travel to spend the holidays with one of their families and it doesn't go well, one may blame the person who made it happen.

Trust:

  If one person has a difficult time spending money and wants to control the family finances, the partner may ignore that and spend anyway but try to keep it a secret or hide the real costs. This leads to a lack of trust.
It's important to acknowledge that in each case, the actual debt may or may not be a problem for the couple to pay off, but the more significant issue is the damage caused by the lack of communication.
It may not be too late this year to at least be aware of what you've spent and talk about it honestly with your partner before the January bills come and set off a tsunami of emotional reactions.  Then use January to review how money was spent and let it be the starting point for a different outcome next year.  Here are some suggestions to make changes:
Set aside some quiet time to talk about how each of you experienced the holidays when you were growing up.  Talk about what remains important to you to continue or let go.  If your families didn't have traditions, talk about what would be meaningful to you. Share your stories about why those things are important and your memories that associate them with strong feelings. Being open and sharing this information may be difficult, but can change the conversation away from money to understanding and meeting each other's emotional needs.

After the holidays, talk about what traditions and situations brought joy and stress this year.  How could that be changed for the next season to work better and be more affordable for you?  Remember, it's easier to have reasonable, successful conversations about money when you're not in the middle of the holidays and the spending frenzy.  And if other family or friends will need to agree, talking about it now is easier than waiting until the next holiday season if you want their buy-in.

Together, determine a reasonable amount to spend on gifts, entertaining and giving.  Save money each month to meet that amount by December and keep it in a separate account.

Consider agreeing on an amount that can be spent without discussing it with each other and talk to your partner if you feel you want to exceed that amount for any reason before spending the money. 
Holidays are not about money and the January stress when bills come is not really about money either.  Having meaningful conversations about how and why you spend can make all the difference.  Give it a try and see how it can improve your holiday experience, your relationship and your finances.